Treat the Troops: Mental Health Matters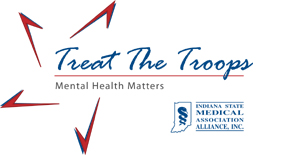 For more information contact:
Cami Pond,

President, ISMA-Alliance
PTSD Awareness Campaign Chair
The United States Military and its families are suffering from the effects of post traumatic stress disorder (PTSD) as a result of many and multiple deployments to Iraq and Afghanistan. Locally, we can make strides in the prevention and treatment of its effects on our community, its members and future generations. The Indiana State Medical Association Alliance (ISMA-A) seeks to implement a program that will raise awareness of PTSD, while also treating Indiana troops and their families who exhibit the signs and symptoms of PTSD.
In September 2010, the Alliance hosted a walk for the medical community, United States Military and its families. Collectively, we can share the responsibility to spread our motto: "Treat the Troops: Mental Health Matters."
There are many talents and attributes among us. The ISMA-A asks each of you to enlighten the community about the overwhelming problems associated with PTSD by walking together. If this endeavor is successful, not only can we ignite change on a local level, but perhaps bring our cause to the nation's attention.
FAQs at a Glance:
1 in 8 deployed military will exhibit signs and symptoms of PTSD.
Last year, Indiana led the nation in the numbers of our returning deployed military. PTSD could potentially affect literally thousands of Indiana citizens, including wives and children.
Early screening and treatment may prevent long-term illness and permanent disability.
Veterans in trouble:
National Veterans Foundation
1-888-777-4443

Military One Source for free counseling sessions
1-800-342-9647

National Suicide Prevention Lifeline
1-800-273-TALK

Learn more about PTSD here
Copyright:
Information written and displayed on www.ismanet.org is the property of ISMA and may not be reproduced without expressed written permission of the Indiana State Medical Association.
For a more detailed sitemap click here.