Directions to the Indiana State Medical Association
322 Canal Walk
Indianapolis, IN
46202-3268 (800) 257-4762
P: (317) 261-2060
F: (317) 261-2076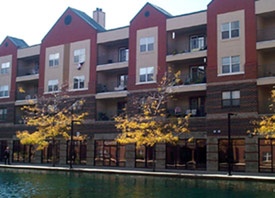 The ISMA headquarters is located in downtown Indianapolis on the canal level of the Canal Square Apartment building (To enter the parking garage, turn onto Vermont Street from West Street. New York Street is the exit only).
Parking
The ISMA has 50 free parking spaces in the lower level of the covered parking garage, just outside the ISMA entrance, for the convenience of ISMA members and visitors.

Parking for events or seminars hosted at the ISMA should be addressed in your meeting notice.
Follow the signs to the lower level and push the button at the gate to speak to our receptionist. Vehicles not parked in designated ISMA parking spaces may be towed at the owner's expense.
*Please note that various map software programs incorrectly have you turn on New York Street. You should instead turn on Vermont (on the North corner of the building off West Street) and follow the signs to the ISMA.
Copyright:
Information written and displayed on www.ismanet.org is the property of ISMA and may not be reproduced without expressed written permission of the Indiana State Medical Association.
For a more detailed sitemap click here.